Contract & Negotiations
Contracting with Oracle is extremely difficult, and if you are not prepared, it can be very costly. Mistakes and oversights can lead to millions of dollars in unbudgeted and unexpected fees and fines from Oracle.
Contracting with Oracle is extremely difficult, and if you are not prepared, it can be very costly. While most technology companies use their contracts as a shield to protect their IP, Oracle also uses their contracts as a sword to target their clients and extract more money. Contracting mistakes and oversights can lead to millions of dollars in unbudgeted and unexpected fees and fines from Oracle.
The Palisade team gave me answers to questions I didn't know to ask. We now have an amazing contract with Oracle. – CIO
There are many firms who claim to help you save money on Oracle. Those firms will push for higher discounts and claim success. Discounts, however, only scratch the surface of how Palisade Compliance can reduce your costs and risks with your Oracle contracts. Our founder, Craig Guarente, spent 15 years at Oracle and was Oracle's Global Vice President of all Contracts and Business Practices. We have assembled a team of former Oracle contracts professionals and combined them with the proprietary Palisade Compliance contracting methodology that looks at both pricing and terms to reduce your costs and risks.
Our Oracle contracting services include:
Contract Negotiations
Contract Assessments And Optimization
Contract Process Redesign
Palisade has experience with all Oracle contracts including:
Licensing

ULAs
Pool Of Funds
Enterprise Agreements
Ordering Documents
Migrations
Other

Support/Maintenance Renewals
Cloud

New Cloud Contracts
Migrations from on-premise

Master Agreements
Consulting
Hardware

Oracle Contract Negotiations
Oracle has hundreds and hundreds of lawyers, analysts, contracts professionals, and auditors who focus 100% on creating a contractual arrangement that is decidedly in Oracle's favor. The Oracle contracts themselves are laden with ever-changing URLs and referenced policies. A simple database contract has over 500 hundred pages of terms hidden behind URLs, technical documentation, and online policies. No one should go alone into an Oracle negotiation.
While your company may have some experience working on a few Oracle contracts over the years, the Palisade team has drafted, negotiated, and advised on thousands of Oracle contracts, across all Oracle products and services. Our founder, Craig Guarente, worked at Oracle for 15 years and literally created Oracle's Global Contract Services teams. There is simply no other firm with the experience of the Palisade Compliance team of professionals.
There are other firms who claim to be Oracle contracting specialists. However, they often focus only on costs, and as a result, increase your risks exponentially. Palisade Contract Negotiation Services are designed to empower our clients to achieve the lowest costs, with optimal terms, and the lowest risks. Palisade Contract Negotiation Services also improve your relationship with Oracle. By putting you in control of the negotiations, Oracle is forced to work with you as a client, and not an ATM.
Palisade can assist with all your Oracle contracting needs – on-premise licensing, cloud, technical support, consulting, hardware, etc. Contact us today.

Contract Assessments
Contracts are at the center of your business relationship with Oracle. Every interaction with Oracle starts and ends with a contract. Not only are these contracts critical, but you probably have many Oracle contracts. Oracle has been in existence for over 35 years and has done over 100 acquisitions. Your contract estate includes a collection of master agreements, license orders, cloud contracts, support renewals, from many different vendors (Peoplesoft, Siebel, BEA, JD Edwards, Sun, etc.).
Most Oracle customers simply do not know what is in their contracts, how to extract the most value from them, and how to identify the hidden risks. Many firms do not even have copies of all their Oracle contracts. Oracle, on the other hand, has all of these contracts and knows exactly what is in them.
Palisade Compliance has developed a contract assessment methodology that uncovers these risks and opportunities, sheds light on your Oracle entitlement, and offers guidance on how you should proceed with Oracle. Central to this service is our proprietary Contract Opportunity and Risk Evaluation (CORE). The CORE provides our clients with a detailed analysis of all your Oracle agreements and how they can impact your business and your plans. The CORE is often the first step to take back control from Oracle.
Ready to understand your Oracle contracts? Contact us.

Contract Process Redesign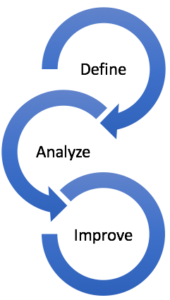 Sometimes, the problem is not only in the contract you negotiated, it is in the process that led to that contract.
While Palisade's focus is on Oracle license compliance and negotiations, our team includes over 70 years combined experience in leading large contracts organizations in procurement, negotiations, approvals, proposals and sales operations at Oracle, Dell, and the United States government. Our executives have led contract process improvement engagements for Fortune 100 clients both while at Palisade and in earlier roles.
This expertise is available to Palisade clients on a project or ad hoc basis.
A quote often attributed to Einstein is that problems cannot be solved with the same thinking that created them. Palisade's executives provide unique insights to the negotiation and contracts process – saving our clients' money, time and aggravation.