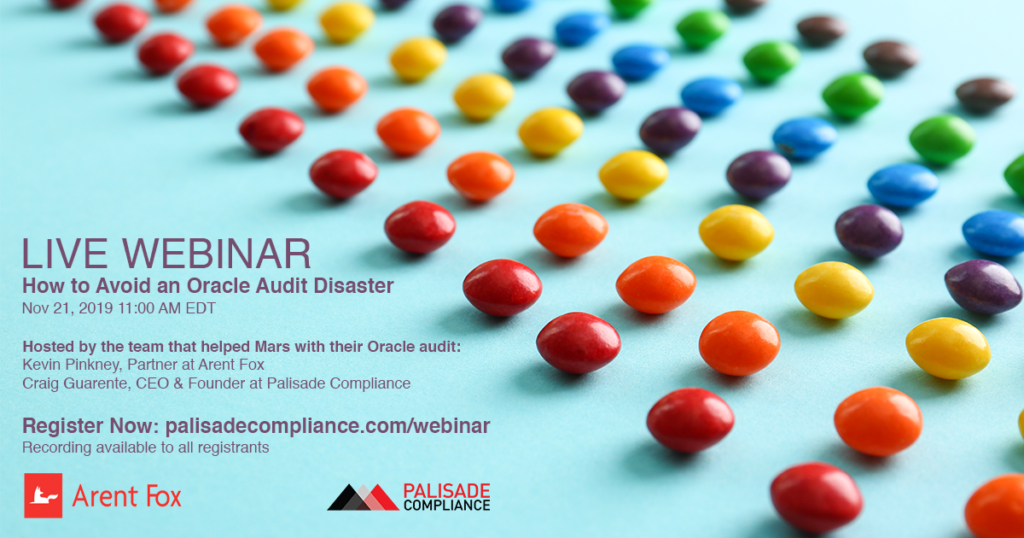 LIVE WEBINAR: How to Avoid an Oracle Audit Disaster
November 21 at 11am EDT/ 3PM GMT
The only thing better than getting through an Oracle audit without giving Oracle more money is not being audited at all. In this exclusive webinar we will hear from Kevin Pinkney, Partner at Arent Fox, and Craig Guarente, CEO of Palisade Compliance, as they discuss the strategies they employ with their clients to help them not only come out on top of an Oracle Audit, but avoid those audits completely.
Kevin and Craig, and their firms, have teamed together many times in the past supporting clients like Mars and the State of Oregon through their Oracle audits and disputes.
This webinar will provide behind the scenes insights you can use to help your company or agency navigate through the complexities of Oracle while minimizing your risks of an Oracle audit.
Whether you are an attorney, a contracts professional, or charged with software asset management or vendor management, this session can help you.
Register Now! Can't make it live? Register anyway for a link to the recording afterwards.
---
LIVE WEBINAR: Are you Playing a Game of Roulette with an Oracle Audit?
December 12th at 11am PT / 2pm ET
If you have ever faced an Oracle audit, it may have felt like a game of roulette where your number came up – except you still had to pay the casino. Business activities, like moving to the cloud or acquiring another company, are a few of the potential triggers and – as the wheel spins – it often feels like you have no control over what happens next.
Join Palisade Compliance CEO, Craig Guarente, who will share the three main things you'll want to have going into an audit that can help you change the outcomes in your favor.
Hosted by Jason Kotsaftis, Rimini Street's Senior Director of Product Marketing for Oracle Products, this 30-minute webinar will be ideal for IT leaders, Audit, Compliance and ERP Licensing teams who want to change the conversation during vendor negotiations.