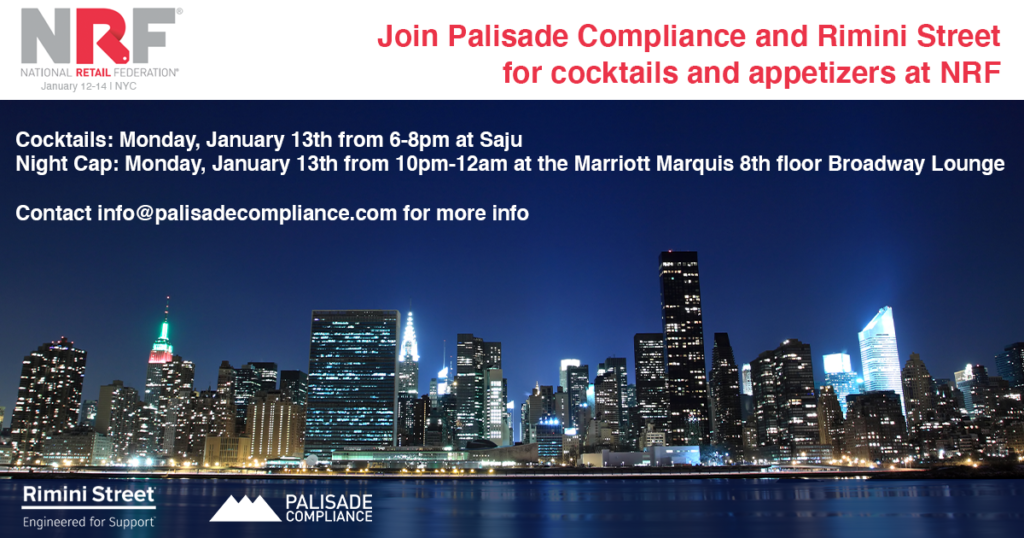 Meet us at NRF in NYC
January 12-14

Join Palisade Compliance and Rimini Street for cocktails & appetizers and learn how organizations like yours saved on their Oracle support costs and maximized the value of their licenses. Meet us at one or both venues:
Cocktails: Monday, January 13th from 6-8pm at Saju
Night Cap: Monday, January 13th from 10-12pm at the Marriott Marquis 8th floor Broadway Lounge
Contact us at info@palisadecompliance.com if you'd like to schedule a 1:1 meeting during the event!
Oracle Audit Office Hours with Palisade CEO Craig Guarente
January 30 at 11am EST / 4PM GMT
Oracle license audits are time-consuming, disruptive to your business, and often result in multi-million dollar non-compliance findings. Oracle audits are not random and are usually triggered by certain events. However, most companies do not have the Oracle-specific skills or dedicated resources to successfully navigate the audit process.
Before you're faced with an Oracle audit (or even if you're in the middle of an audit), this is an opportunity for you to ask Palisade's CEO and founder Craig Guarente any audit questions you have.
In this live and interactive office-hours session, Craig will host a Q&A on how to strategically navigate an Oracle audit. We ask that you submit your question(s) ahead of time and plan to attend live to have a dialogue with Craig. You will need to have a stable audio connection either by phone or internet, but video is not required.
Your name and company will be anonymous and you will not be able to see what questions other participants have submitted.