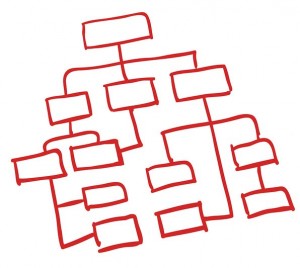 We have previously written about the complexity of the Oracle sales organization and how they have separated sales teams based on product line and account. It's only getting worse as Oracle splits out its license and cloud sales teams.
It's so bad that we've had Oracle cloud reps call us looking for help because the Oracle on-premise rep and LMS audit teams were being too aggressive! Just how bad is it?
One client of ours claimed there were 41 Oracle sales people calling into their company. Nuts!
Escalate like Oracle!
Many Oracle customers seem to understand who their sales representative is, and sometimes that person's immediate manager. However, few customers know the complete chain of command within Oracle. Why is this important? The reason is that the higher you go in the organization, the more likely you will be able to find someone who is reasonable. The Oracle sales team will not hesitate to escalate within your organization. If the person they are dealing with, is for instance, a director who is not moving fast enough or toward a deal, they will escalate up the chain to VP, CIO, CFO, and CEO if necessary. You should be prepared to do the same!
Understanding the Oracle sales hierarchy
From your sales rep through to the Oracle CEO, you should understand the Oracle sales chain of command:
The Oracle field sales person usually reports to a regional manager, who reports to an area VP.
The area VP usually reports to a senior VP, who would then report to the NA or US SVP, and ultimately up to the CEO.
Product areas such as technology, applications, cloud, etc, have their own hierarchy that usually does not come together until very high up the chain. The same structure applies globally: Europe, Asia, Latin America. Wherever you are, you should know all roads lead to Safra Catz.
Everyone in Oracle's management should be available
As a prospect or customer, you have every right to understand the management team at Oracle. If they are reluctant to tell you, that should be a red flag. After all, it is just good business practice, isn't it? Everyone in that management chain should be available to you. In fact, when Oracle sales and LMS auditors are being unreasonable, an email to Safra Catz could very well do the trick and get things back on track. The key is to know when to pull that lever.