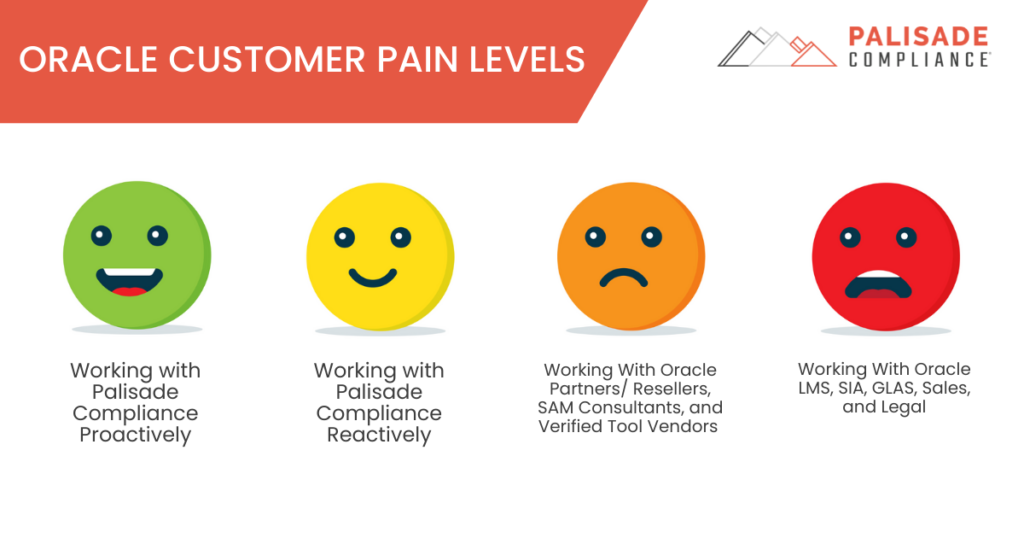 This topic is near and dear to me. Believe it or not, I've been trying to make it easier to do business with Oracle for 27 years. Many companies rely on Oracle products and services and they should be able to work with Oracle and avoid all the agita that is embedded in so many customer-Oracle relationships.
When I was running Oracle's global contracts and business practices teams, I was tasked by Oracle's CFO to talk with customer CFOs to determine why Oracle was hard to do business with and what we (Oracle) could do about it. I think you know how that project went. Now at Palisade Compliance, we help our clients avoid, manage, and overcome their Oracle business challenges.
Oracle's lost opportunity and 3 ways to take control
Despite our best efforts trying to make things easier for customers, Oracle keeps finding new ways to make things harder for their customers. It's really quite amazing. On the one hand, Oracle is a well-run money-making machine. On the other hand, there is so much lost opportunity for Oracle because of the way they treat their customers. There are many companies just looking for a way to reduce their reliance on, and their costs with, Oracle.
This 27-year Oracle ecosystem journey has taught me many things. One thing that I know for certain is that you are never going to change Oracle. "That's just Oracle being Oracle" is a phrase we've uttered too many times. The only thing you have control over is yourself and your team. Over the last 11 years at Palisade Compliance, we've developed three goals for customers to achieve that actually make it easier to do business with Oracle. If your team does these three things, you will not make Oracle a warm and fuzzy company. However, you will gain power and leverage on Oracle. That will force Oracle to behave better. And that will make it much easier to work with them. You may even have a pleasant experience!
1. Stay informed
An educated consumer is a good Oracle consumer. Stay informed of Oracle practices, policies, pricing, strategies, and latest developments. You need to know enough to identify issues early and react properly. These could be around negotiations, new purchases, audits, policies, certifications, etc. Google searches are a popular way of staying informed. Take care, there is so much information, and it can be contradictory and overwhelming. Make sure you're getting your information from a trusted source. Being surprised or unaware of something Oracle-related can be disastrous. Ask anyone who's been through an Oracle audit.
2. Stay in compliance
One of the main stress points for Oracle customers is audits and compliance. Unfortunately, this issue is not going away, even if you are moving to Oracle's cloud products. Oracle has cloud and license audit rights, and they use them extensively. Oracle has a huge audit team and they are constantly building their audit capabilities. One thing Oracle does very well is target customers for audits. If you are in compliance, Oracle does not want to audit you. There is no money for Oracle. Being in compliance reduces the Oracle stress because it reduces your Oracle audit risk. Companies use various spreadsheets, off-the-shelf tools, home-grown applications, people power, and other means to try and stay in compliance. None of these methods is perfect and there are pluses and minuses to all of them. Again, be informed and know the reality of your compliance position.
3. Stay in control
This is probably the most important of all the tools in your arsenal. Staying in control means knowing when you have power and leverage over Oracle, and using that to your advantage. Staying in control also means making sure Oracle does not get out of control. Don't let Oracle use non-contractual policies to force you into non-compliance. Don't let Oracle tell you that you can't run Oracle on a public cloud when there is nothing in your contract that prevents it. Don't let Oracle they won't support you in the cloud. You signed contracts with Oracle and it's important for you to use those contracts to control your interactions with Oracle. Oracle makes it easy for you to go off track.
Palisade Compliance brings it all together
We are 100% independent from Oracle. Our goal is to keep you informed, keep you in compliance, and keep you in control of Oracle. Only then will you have the confidence and freedom to make the IT decisions that are necessary for your organization's success.
Stay informed through our blogs, videos, white papers, and webinars.
Stay in compliance with our Self Service Software Detection Portal (available in both a cloud and on-premise solution), as well as our industry-leading compliance assessments across all Oracle products (database, middleware, applications, Java, cloud).
Stay in control with our expert advisory team to help you with audit defense, ULA certifications, contract negotiations, cloud migration analysis, and on-demand access to the entire Palisade Compliance team of experts.
Get in touch with us today for a consultation on how you can make it easier to do business with Oracle.