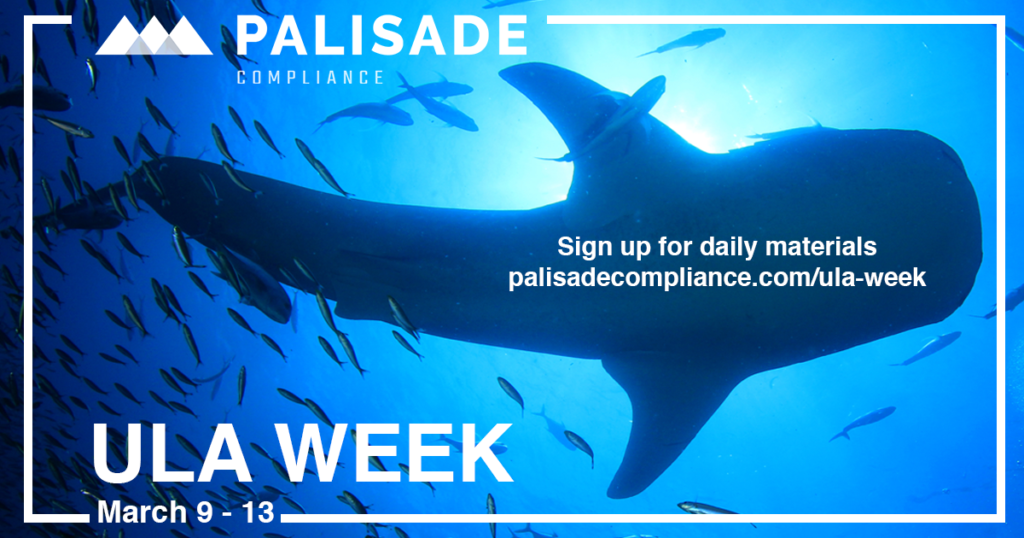 We are less than 100 days out from Oracle's fiscal year-end. Contracts are being negotiated, audits are flying, and the Oracle Unlimited License Agreement is rearing its ugly head again. Despite Oracle's attempts to move their customers to the Oracle cloud, Oracle continues to push the legacy ULA contract. Now, Oracle is getting even more aggressive and proposing the Perpetual ULA (PULA). I'm sure that's just what customers are asking for: a way to give Oracle lots more money forever with no escape clause.
Help is in sight with our ULA Week!
To help you in your ULA journey, Palisade Compliance is hosting ULA week for anyone who wants to attend. Palisade's ULA Week will contain a host of training, webinars, and takeways that you can use throughout your Oracle ULA lifecycle. Whether you are thinking about signing a ULA, or you are planning your exit, Palisade's ULA Week will provide you with the information you need to succeed and take control from Oracle!
Monday, March 9th: ULA Paliversity Training Free Sign Up – Free access to our online ULA training via Paliversity.com. Sign up today for access and type in "ULAWeek" under the promo code.
Tuesday, March 10th: ULA Webinar with Rimini Street – Discussion on how to exit your ULA and reclaim your budget to invest in new technologies. You can watch it on-demand here.
Wednesday, March 11th: New ULA Downloadable Asset – One page detailing the Palisade ULA optimization strategy you can implement today. Request it here.
Thursday, 12th: ULA Dissection Webinar – We take actual, customer-signed ULAs, and review them live. Go through the good, the bad, and the ugly. (Don't worry Oracle legal, all these ULAs are in the public domain!!) You can watch it on-demand here.
Friday, March 13th: PULA Seminar – It's Friday the 13th so let's talk about the scariest Oracle contract of all, the Perpetual ULA. Since Oracle is pushing this more, we are educating you on the PULA myths and realities.