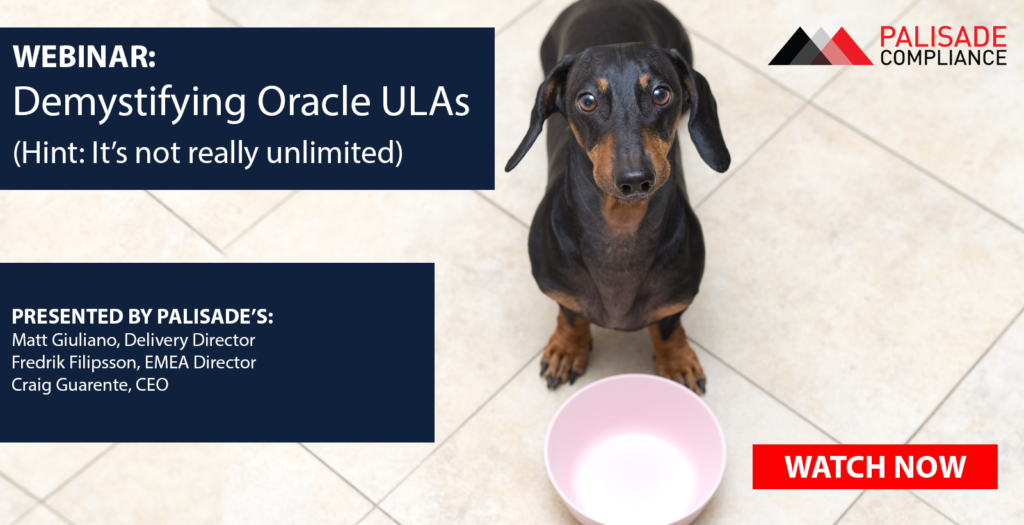 On-Demand Webinar: Demystifying Oracle ULAs
An Unlimited License Agreement (ULA) from Oracle gives you the right to use an unlimited number of licenses for a limited set of specific Oracle products over a limited time in a limited geography to perform limited tasks. Bottom line: It's not all that unlimited. Unfortunately, many companies find that out the hard way.
In this on-demand webinar, you'll hear our EMEA director Frederick Filipsson, delivery director Matt Giuliano, and CEO Craig Guarente set about demystifying Oracle ULAs. They explain Oracle ULA complexities, including:
Essential learning: Oracle ULA, Oracle ULA vs Oracle PULA and the pros and cons of each agreement.
Negotiation toolkit: Oracle's ULA pricing structure, allowing you to build a negotiation strategy.
ULA management: How to manage your Oracle ULA from a license and contract management perspective.
ULA renewal strategies: What is Oracle's goal at renewal, how most customers handle renewals, and Palisade best practices.
Evaluating your ULA: How to measure what value your current ULA has provided.
Live Q&A session.
Meet the Palisade Team:
FREDRIK FILIPSSON
Fredrik joined Palisade with 9 years of experience at Oracle EMEA where he led sales teams and negotiated audits and large license deals.
MATT GIULIANO
At Oracle LMS, Matt created and managed the LMS Weblogic audit team, leading into all Middleware audits.
CRAIG GUARENTE
CEO of Palisade Compliance, Craig formerly spent 16 years at Oracle where he was Oracle's Global Vice President of Contracts and Business Practices. In addition to this, Craig was also Oracle's Global Process Owner for customer audits, a member of Oracle's CIO advisory board, and Oracle's representative on the Licensing and Contracting committee for the Oracle User Group.
View this Webinar On-Demand