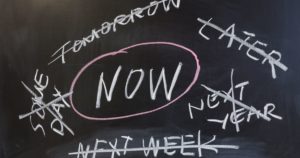 If you have an Oracle ULA that expires in May, then you are going through the process of figuring out what to do with that ULA. Do you renew? Certify your Oracle ULA? Or do something different? Typically, Palisade Compliance takes a neutral stance on this question. We follow the facts and if they lead to a renewal, then we recommend our process to get the best renewal. If the facts lead to a certification, then we help our clients get the best certification. That decision is typically made by the client on or near May 31 to get the maximum benefit.
However, times are different these days.
The coronavirus and your ULA
The coronavirus has impacted our lives in ways that were unimaginable just a few weeks ago. Like many of you, I'm hunkered down at home with my entire family as we go about our lives working and schooling from home.
While we are all working hard to stay safe and healthy, the drumbeat of your Oracle contractual obligations goes on. I can confirm that your Oracle sales rep is still pushing to close business by May 31. The uncertainty around the coronavirus and how it will impact business is making it almost impossible to forecast what your Oracle license needs will be over the next six months, let alone over the next three years.
Therefore, for the first time in my 25 years of Oracle experience, I recommend that companies certify their ULAs. In fact, only in very rare circumstances should companies be considering a new ULA at this time.
Why certify your Oracle ULA now?
There are several reasons why companies should certify now:
Uncertainty. ULAs can be great vehicles for companies that are growing and need the additional software. Right now, we don't know growth rates, and it's almost impossible to forecast them.
Cost avoidance. Signing or extending a ULA always costs more money than certifying a ULA. If you look at our chart, you can see the cost difference between a company that certifies and a company that renews. The differences are staggering. In the example below, it's over US$15m.

Right now, in these uncertain times, it's important for companies to hold as much cash as possible because you may need it. Once you sign that ULA with Oracle, you are committed to giving Oracle your money and that prevents you from using it where you really need it. Believe me, you need your money more than Oracle wants your money.
You can always sign a new ULA later. Let's say you certify your ULA in May 2020, and in January 2021 you decide that you want to be back in the ULA. Good news! Oracle will take your money in January 2021 just as fast as they will take it now. You always have the ability to get back in the ULA. In fact, if you certify out of your ULA first, then Oracle will know you are serious, and you will get a better deal later. In the example below, you can see your three-year savings are US$2m with the same deal. You can do better than this conservative example and hold on to your money for the next year.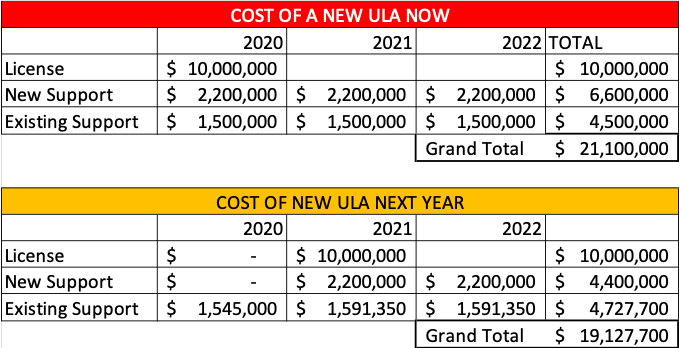 Freedom. Getting out from under a ULA, even if it is only temporary, gives you the freedom to explore other options that may benefit your company. Things like alternative open source databases, non-Oracle cloud, and third party/independent support are all possibilities that open up outside of the ULA.
What you should do today
While Palisade Compliance does not typically offer broad-based recommendations like this one, times are different now. It's important that our clients and audience understand the implications of their actions and the options available to them today. It's very important that every company whose ULA expires do these things now:
1. Conduct an analysis to see if you are in the minority where it makes sense to renew your ULA.
2. Create a certification task force internally to certify, and don't rely on Oracle's audit team.
3. Optimize your license position now to create as many licenses as possible.
4. Control the entire certification process and do not let Oracle take control.
5. Whether you ultimately decide to certify or renew your ULA, get help from Palisade Compliance! (This one is self-serving for us, but it will radically improve your results. Guaranteed.)
We're here to help
If you have a ULA and you have questions, please do not hesitate to reach out to us. We've helped over 100 customers through their ULA journeys. Most of these customers were able to certify out, keep their money, and use their newfound freedom to accelerate their digital transformations. Also, we've never had a client certify and then get audited. You know who gets audited? Companies that try to certify on their own, or those companies who use our competitors.
Further content:
And above all, stay safe, stay inside, and stay healthy!