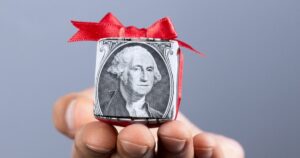 On June 22, 2021 Oracle announced their new Support Rewards Program. In their announcement, Oracle said the goal of the program was "to help customers speed migrations to the cloud while reducing their software license support costs". Sounds like a big deal. And for Oracle it is a big deal. So big in fact that Oracle reached out to me to have a conversation, explain the program, and answer any questions I had. I have to admit this is the first time in 10 years that Oracle has reached out to me in a good way! Thank you, Oracle!
I met with Oracle, had a good conversation, asked some pointed questions, and received some pointed answers. Based on that back and forth, plus Oracle's announcement, plus our 25+ years' experience dealing with Oracle, we've put together this independent guide to Oracle's Support Rewards Program.
In this article we will review the program, how it works, how it compares to previous Oracle programs, and then give our verdict and recommendations for Oracle's customers. Oracle claims that "many customers will be able to get 100% of their Oracle support fees reimbursed simply by migrating a handful of additional workloads". Is this true? Let's find out.
What is Oracle's new Support Rewards Program?
Oracle's new Support Rewards Program is available to all Oracle customers. There are no license contracts to sign, but the customer must sign up for a new Universal Cloud Credit (or other applicable cloud credit) contract to be part of the program. If you signed a cloud contract before the program started, you are out of luck, unless you want to sign another cloud contract. If you do that, you may have your previous purchase grandfathered into the program. Every client signing a new applicable agreement is automatically enrolled in the program. Here's how it works:
Sign a new order for Oracle Cloud Credits or other applicable cloud offering (not all cloud orders are in the program).
Consume the cloud credits (this is important). It's not enough to buy the credits, you have to use the credits.
Each month you receive a "reward" from Oracle totalling either 25% (if you have regular Oracle licenses) or 33% (if you are in an Oracle ULA) of your eligible cloud consumption fees.
You can then take these rewards and apply them to your support invoice.
First, there is going to be nothing in your license or support contracts that talks about this program. At least, that is what I was told. It's going to be available to every Oracle customer who signs an eligible cloud order. We have not seen the terms of the cloud contract at this point. I will assume it is included directly in the order, but I have a feeling it might be in a URL. Once we have more clarity on that we will update this post.
How do the rewards work?
Let's say you spend $1M a year on Oracle support. Under this new program, if you consume $1M in Oracle cloud, you will automatically get a reward from Oracle for $250,000-$333,333 put into your cloud dashboard on a pro-rata monthly basis. If we take that same $1M support spend, but now you consume $4M in Oracle cloud, you will receive a reward from $1M-$1,320,000 that can be applied to your support invoice. You can see if you spend enough with Oracle, your support bill can go to zero.
Above is just a summary. There are plenty of other details on how the program works, what products are eligible, how often rewards are applied, who can use the rewards, etc. We have the details if you're looking to take advantage of this program.
Oracle Support Rewards vs old Oracle programs
Ever since Oracle realized the world was moving to cloud, with or without Oracle, the database vendor has been trying different ways to entice their clients to move to Oracle's cloud. One of the biggest hurdles Oracle faces in this push are Oracle's incredibly expensive, and often maligned, technical support services and costs. Oracle has an amazing problem: they have this $18 billion dollar a year support business that is 95% profit. It's basically the profit engine that is driving the entire company. Sounds great, right? Well, when companies think they already spend too much on Oracle, or they are tired of Oracle's hard-to-do-business-with approach, the last thing they want to do is spend even more money with Oracle. There is a trust gap, for sure.
While that huge support profit engine may have been good for Oracle's past and present, it's hurting Oracle's future. The number one thing Palisade Compliance hears from Oracle customers is, "How can we reduce Oracle technical support costs?!" As long as companies think they are getting screwed on Oracle support, they are going to look at any other cloud vendor before looking at Oracle.
Oracle has tried to fix this problem for years. Over the last five years, Oracle has come up with many different incentives. Several years ago, they were offering a direct support reduction: if you buy Oracle cloud for x number of years, Oracle will reduce your support costs forever. I'm guessing when companies stopped renewing their cloud purchases and Oracle was left with reduced support revenues, they made it harder to reduce those support costs. In recent years, customers could negotiate support reductions as part of their license purchases when buying Oracle cloud. Typically, these arrangements provide companies with a credit on their support costs as long as they continued to buy Oracle cloud. Obviously, this approach wasn't working either or Oracle would not have come up with their new rewards program.
Now Oracle has come up with the Oracle Support Rewards Program to get their customers to move to Oracle cloud, and increase Oracle's cloud revenue. Below is a small chart that shows some of the highlights between Oracle's new approach and some of Oracle's old approach. Anything in green means we believe that offering was better for the client. The yellow item is equally valuable to clients.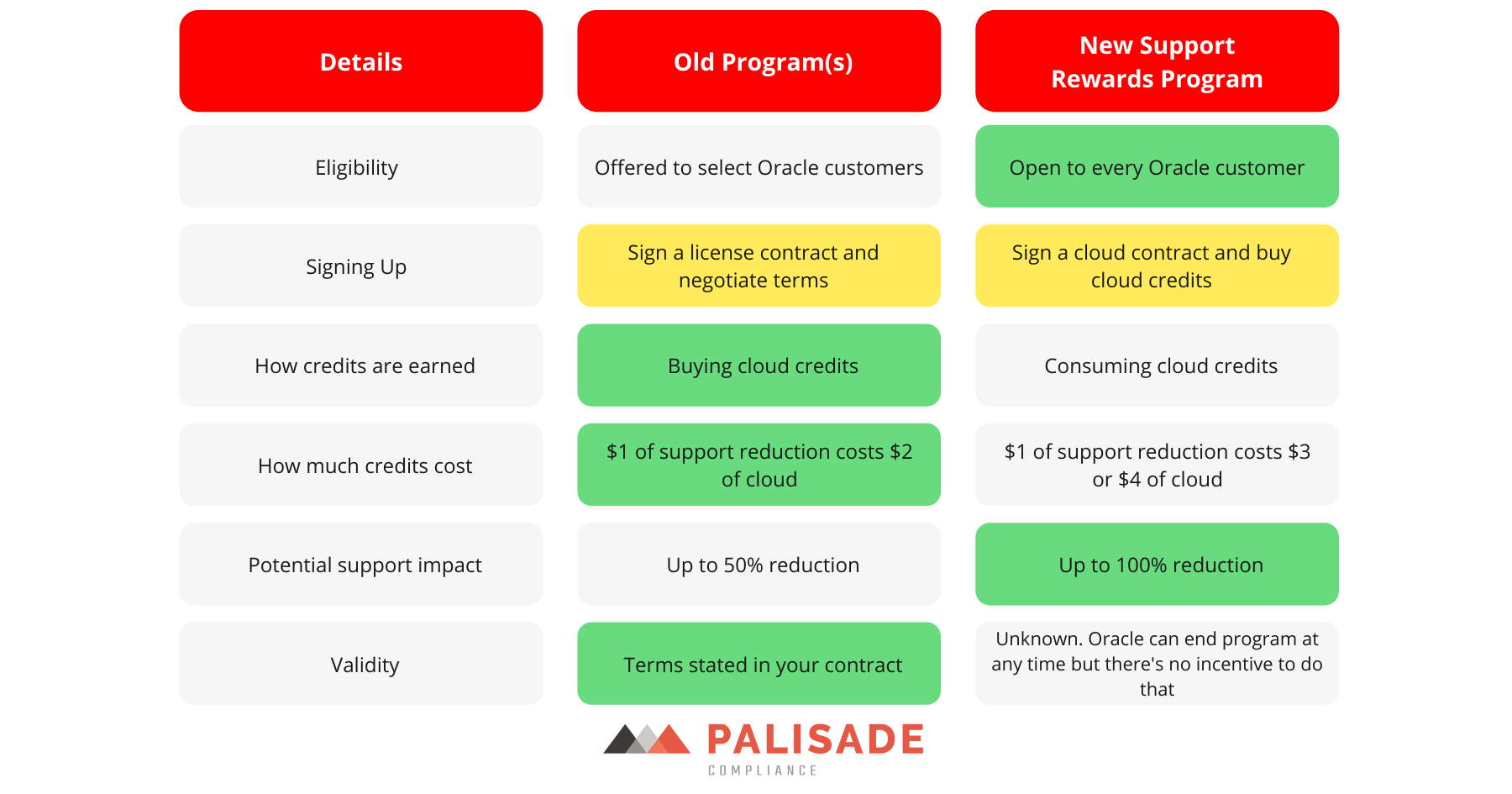 As you can see from the chart, there are good and bad things about Oracle's Support Rewards Program when compared to how they were doing business before. Ultimately, you can bring your support costs to zero, but the rewards are now 50-100% more expensive than they were previously. See, Oracle never makes it easy!
Potential gotchas
If you've been dealing with Oracle for any length of time, you know how difficult they can be to do business with. I wish I could say this is the kinder and gentler Oracle trying to do right by their clients. Maybe it is, but I'm not ready to go there yet. Having said that, we want you to think about the following:
What if the program ends? Are you going to be locked into Oracle cloud AND paying your existing technical support fees to Oracle? You betcha. Currently there is nothing guaranteeing that this program continues. In fact, Oracle could end it next year if they wanted to. We've actually mentioned this to Oracle, and they said they would look at adding some guaranteed availability into the program. (You're welcome!)
Are you ready to be locked into Oracle even more than you are today? Think about how hard it is to business with Oracle when you are running your software on-premise. Now imagine Oracle having complete control over all your infrastructure. Do you trust them? That's something only you can answer.
Palisade Compliance's verdict on Oracle's Support Rewards Program
As with almost everything Oracle, the answer to the question "is this a good deal?" is "it depends". In this case, it depends on your goals and plans for the future. Oracle's support rewards program can be a big win for you, or it can be an utter quagmire.
Are you looking to reduce your Oracle costs?
It's important to know what this program is and what it is not. If you think this program is going to help you reduce your overall Oracle spend, you're going to be disappointed. This program is designed to help you spend more with Oracle by moving to their cloud. You will earn rewards that may be applied to your support invoices. Your Oracle costs will go up if you earn credits.
It is very interesting to note that several years ago, Oracle's CEOs (Safra Katz and the late Mark Hurd) said that the move to cloud would drive Oracle revenue up 3-4x. Oracle is very good about telling you exactly what they want you to do. Oracle's new Support Rewards Program is not designed to help you spend less on Oracle. In fact, it's designed to get you to move to Oracle's cloud, and get you to spend 3x to 4x more per year with Oracle. That's a good business move by Oracle. But if you are looking to reduce your Oracle bill, this program is not for you.
The fact is, if you are an Oracle customer, and you're looking to reduce your Oracle costs, neither the old program nor the new program will help you do that. The best way to reduce your Oracle costs is to get help from an independent Oracle expert like Palisade Compliance. We can not only help you navigate any of these programs, but we can help you create a real Oracle cost reduction program that matches your goal of reducing your overall spend with Oracle.
Are you looking to move to Oracle cloud?
If you are looking to move to Oracle cloud then this program can actually help you reduce your Oracle support spend to offset the cost of Oracle cloud, at least as long as Oracle keeps the program going. As noted above, your overall Oracle costs will go up, but if you're moving to Oracle's cloud you might as well take advantage of this program. Note that we do not recommend you move to Oracle cloud because of this program. First pick the best cloud for you technically, and then look at the financials. This program should never be the singular reason you move to Oracle cloud. It should, however, be used as an added benefit once you do make the move.
Although Oracle's Support Rewards Program is not a fit for every company, it may work for you if you are intent on moving to Oracle's cloud. We would note, however, that this rewards program is just the starting point of your negotiations. You should continue to negotiate concessions from Oracle that are above and beyond this program. In fact, many of the older contractual terms that Oracle was using before this announcement can still be applied afterward. Just because Oracle announced this program does not mean that you can't do better. In fact, I would argue that you should continue to push for support reductions on top of this new program.
The key is to use this program to gain additional leverage with Oracle and not have the program lock you into an even more restrictive arrangement with Big Red. Palisade Compliance has negotiated hundreds of millions of dollars of Oracle cloud agreements. We can always get you a better deal than what Oracle offers.