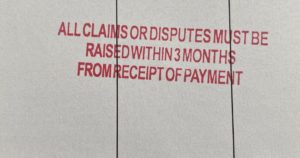 I recently received an invoice from a vendor and I noticed this little stamp placed on the document that says "ALL CLAIMS OR DISPUTES MUST BE RAISED WITHIN 3 MONTHS FROM RECEIPT OF PAYMENT". It's in ALL CAPS and big bright red letters. Take a look at the picture and see for yourself.
After shrugging and tossing it aside (because I have a contract!) I started thinking about how Oracle tries to do this every day with their Fake Policies on virtualization and cloud licensing. I won't let my vendor bypass our contract terms because someone put a stamp on an invoice. Even a bright shiny red stamp! Why do you let Oracle bypass your agreements and try to enforce policies that are not in your contracts?
This is really nothing new in the corporate contracting world. The "battle of the forms" has been around forever. Oracle, however, takes it to new heights because they don't even show you the "forms" until they try to enforce them. And when they try to enforce them it could cost you tens of millions of dollars. The worst part of this Oracle behavior is that it has somehow become "normalized". Oracle customers just accept that Oracle is going to try to take their money using contractual and policy hocus pocus.
As I'm writing this, I have another idea. What don't we create our own stamps? Every time you sign an Oracle contract you can stamp it with something like this…
"YOUR LMS/SIA AUDIT TEAMS ARE NOT NEUTRAL. STOP PRETENDING!"
"WE GET OUR MONEY BACK IF YOUR PRODUCTS DON'T WORK."
"I BOUGHT YOUR STUFF, NOW LEAVE ME ALONE."
I could go on for a long time with this idea.
In all seriousness, your contracts rule. That's all that should matter. Don't let Oracle hit you with anything outside the boundaries of your agreements with them. And if you really want a stamp for your Oracle agreements, send me a note and I'll see what I can do.