Recently I spoke at the IBSMA Compliance Summit.  It's a great venue and you get to hear people from many different companies talk about what they are doing and how they approach compliance.  At this latest event, I sat in on a presentation by Oracle LMS where they talked about their services.  They mostly talked about cloud, which is interesting because they supposedly audit on-premise software. One thing that they brought up was that Oracle LMS has a new service where they will help clients figure out how much Oracle cloud they will need should they move their software from on-premise to the Oracle cloud. I heard this and alarm bells went off!!  Why would anyone voluntarily tell the Oracle LMS audit team about their environment? They are auditors, and they are built to find money for Oracle.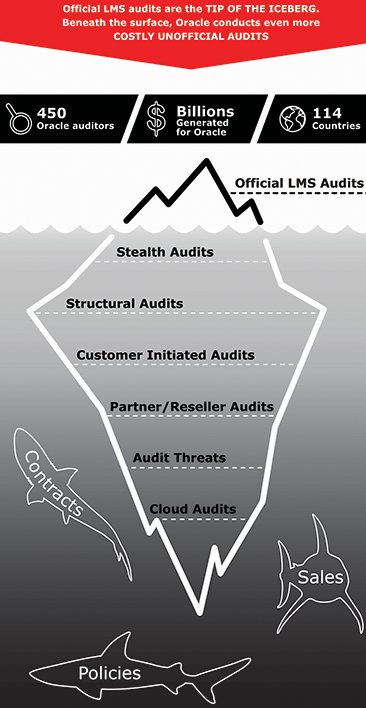 Well, that was alarming enough, but then we saw the Oracle cloud TCO calculator located here.  I thought this was interesting so I started poking around and the website initially asks for your company name and credentials.  Then after that the first question asked is whether you run Oracle in a virtualized environment.  Well that is one of the biggest licensing traps Oracle has!  Using this calculator, you self-identify your company, the fact that you are virtualized, and then how many virtual cores, etc.  You are giving Oracle an audit roadmap!
What should be most frightening is that anyone in your company can go to this website or go to Oracle LMS and provide this data.  Oracle will be more than happy to take it.  What happens when it's provided?  You know what happens.   If you give Oracle information and they can make a claim that you have a compliance problem, even if it is based on a non-public interpretation of a non-contractual policy document, they will do it.
We've produced this Oracle audit infographic and it's corresponding white paper, and we put this LMS offer of help in the "customer initiated" audits.  Oracle invites you in, you give them information, and then you are at their mercy.  The best case is that you don't have a problem. The worst case is that Oracle thinks you have a multimillion dollar problem.  Blood in the water.   Look at those sharks circling the iceberg!
I've been saying this for years: if you want non-biased help with your licensing, the last place you want to go is Oracle (sales or LMS) or an Oracle reseller.  Remember, Oracle will do this for "free."   There is always a cost when it comes to free.  Believe me; you don't want to pay that cost if you don't have to.