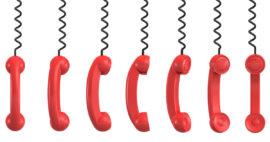 Oracle announced their Q3 earnings last week and the market greeted the announcement with a big yawn. After an initial stock drop of 3%, Oracle shares are pretty much back to where they were pre-earnings announcement. After reading the transcript of Oracle's earnings call, it was clear to me that Oracle continues to miss the point on what their clients, and the market, want to see from Oracle. Given that Oracle won't listen to their clients, I figured I would give them some help. Let's imagine a world where Oracle put customer satisfaction at center stage. Below is a fictional Oracle earnings transcript from the future where customer satisfaction is the key driver for Oracle. What do you think? Will Oracle ever say this?
June 15, 2019 – Fictional Oracle Earnings Announcement Transcript
ORACLE EXECUTIVE
After another quarter of successful revenue growth, we are also happy to announce we've made the following changes in how we do business to better align with our customer's needs. First, Oracle is so confident in the quality of our cloud compared to our competitors that we are making it easy for our customers to use our software on the cloud of their choice.  We will no longer audit our customers and force them to buy cloud services they don't want. We are also cleaning up the licensing ambiguity surrounding using Oracle in the cloud. From now on, only the contracts we sign with customers will guide usage of our software. We will no longer create these non-contractual ever changing "policy documents" and then try to use them to force customers to give us more money or use our cloud. Oracle is now open and transparent in our licensing. We want our customers to be happy and to use our software in the cloud of their choice. We also believe our cloud is the best and customers will naturally move to it without being coerced.
ANALYST QUESTION
Those are some huge changes for Oracle. I'm sure your customers will be very happy to hear what you are doing. There have been years of built up frustration with the way your sales and audit teams have treated your customers. Some of your customers have even gone on the record with their frustrations. How can customers be sure you are serious in making these changes?
ORACLE EXECUTIVE
We've taken two steps as a show of good faith. First, we've removed all the non-contractual policy documents from our websites and rewritten our contracts from the ground up to make all the terms clear and transparent. We've even taken input from our clients and independent firms like Palisade Compliance to help us do a better job of contracting. If it's not in the contract it doesn't exist. Second, and most important, we've disbanded our LMS and SIA audit organization. The usefulness of that organization has run its course and we do not want our customers to have any worries about aggressive audits. It's a bold move on our part but we want to be bold when it comes to customer satisfaction.
ANALYST QUESTION
Your LMS/SIA audit teams bring in billions of dollars of revenue. Won't this change hurt your bottom line?
ORACLE EXECUTIVE
Great question. You know what brings in even more revenue than aggressive audits? Trust and great products. Oracle has some great products and we want our clients to trust that we will treat them fairly. These moves on our part will, hopefully, demonstrate to our customers our commitment to them. Giving customers the freedom to use our products anywhere on an equal playing field, combined with removing the ambiguity of licensing and threats of audits are going to result in an explosion in our revenue and customer satisfaction numbers. We are confident this is the way our customers want to be treated. Our job is to build great products. If we do that, then we don't have to do all those other things to trap and force our customers to buy things they don't want or need.
ANALYST QUESTION
One last question. You mention that you don't have to do things to force customers to pay for things they don't want. Your support/maintenance business is estimated to be over $20b a year with 95% profit margins. A portion of that money is being paid for products that your customers are not using. One of the biggest complaints against Oracle is the high cost and low value of your support/maintenance offerings. What are you doing to address this issue?
ORACLE EXECUTIVE
We believe our support/maintenance offerings provide our clients great value. We have amazing renewal rates and we stand by our products. However, we do understand that customers are literally paying for things they are not using. Therefore, we have officially changed our technical support policies and eliminated our matching support and repricing support policies.  What this means is that if our customers are not using support, then they don't have to pay for support. Even more, they don't have to worry about Oracle going in and jacking up the prices on the remaining support they are using. Our old policies resulted in our clients paying for things they were not using or paying the same even when they were using less. That is no longer case. Our customers will only pay for what they use. If they use less, then they pay less. Again, we think that is only fair to our customers. We also believe that our support offerings are so amazing we will not see a major impact to our bottom line. And if we do see our revenue drop then we know we have to offer a better product.
Thank you all for your time today and I look forward to our next earnings call when we can report on our progress in making Oracle more open and customer-centric.