What Causes an Oracle License Audit


As an enterprise software licensee, your company is at constant risk of an intrusive audit by every one of your software publishers (Oracle, SAP, Microsoft, etc.) The goal of many software publishers is not to ensure you maintain compliance. Rather, their goal is to make it as easy as possible for you to use their software throughout your enterprise. Once you start using it you will eventually pay for it, either through a direct purchase or through an audit. Because software vendors want to maximize usage and not ensure compliance, your company carries a substantial compliance risk that can translate into large unplanned IT expenditures very quickly.
Oracle license audits are particularly difficult, because unlike many other software vendors, Oracle makes access to their software very easy. So easy that many customers create a multi-million dollar compliance problem simply by downloading and installing readily available software, options or features.
All software publishers use the threat of an expensive and time-consuming audit to ensure compliance. Oracle, like all software vendors, views the license audit as a source of revenue as well as a valuable tool for increasing negotiating leverage. None of this should be a surprise, because Oracle makes it very clear that compliance with (complex, vague) contracts as well as (unpublished and inconsistent) Oracle policies is 100% the responsibility of the software licensee.
Simply fill out the form below to access Palisade's Oracle Audit Triggers white paper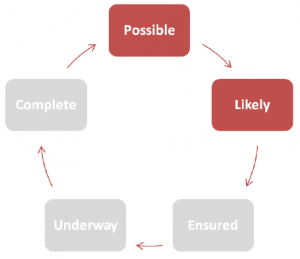 What's inside this Palisade White paper about Oracle Audit Triggers:
In this white paper Palisade offers an overview on what can trigger an audit, and some ideas for de-escalating situations to avoid the time and expense of a software audit.
The white paper is the first of two parts and focuses on companies which fall into these two categories:
Audit Possible – Your company has Oracle software on its servers which can be located anywhere.
Audit Likely – There has been a change in your business, technology, or relationships that increases your risk of an Oracle audit.
In this white paper, we look at audit scenarios, identify common audit triggers, and describe scenarios specific to Oracle licensing, such as:
Oracle Audit Probabilities – business changes, high spending, settling other audits, or reducing spend are just some of the actions that could lead to an Oracle audit.
Oracle's Right to Audit Your License Usage – any software license places the burden of contract compliance on the buyer (licensee) of the software. Audits of software are simple (for the publisher) – they send a letter, stacks of worksheets, and some scripts to run while the licensee does all of the rest of the audit work. Upon receipt of the results, the publisher runs them through non-transparent internal processes and then sends a bill for the license fees and back support which usually commands an excessive total.
What Triggers an Oracle Audit – software audits are not random and instead they are triggered by specific business events and innocent or not-so-innocent behaviors on the part of your staff. These events and behaviors move your company from the basic stage of our model Audit Possible towards a much higher category of risk which is Audit Likely. Some of these events and behaviors are within your company's control while many are not.
Strategies to Avoid Audit Escalation – Palisade Compliance does not help clients avoid an audit by 'hiding' their utilization of software. We do provide ideas as to the best ways to mitigate potential compliance trouble spots without simply paying an invoice, and help clients take back control of their Oracle relationship.