How Credible is Your Oracle Advisor?
7 criteria to guide you

Oracle complexity seeds boom
In 2011, a new industry emerged to help Oracle customers with audits, ULAs, compliance, negotiations, etc. Back then, only three companies, including Palisade Compliance, were actively promoting services to help manage Oracle problems.
Since then, Oracle's notoriously complex contracts and business practices has fueled a boom in advisory firms.
Now, almost 10 years later, there are more than 50 companies in the market for providing Oracle advisory services. With such an explosion of providers out there to help Oracle customers, you would expect there to be more than a handful of companies available to offer the best advice on how to navigate your Oracle challenges.
But, wait …
Unfortunately, most of those 50 companies are either trying to sell you more Oracle, a competitor product, or they're simply "2 guys and a spreadsheet".
So, while the market has created more advisory firms, Oracle customers are in even greater danger of getting bad advice that could harm you as you make your digital transformation. Choosing the wrong advisor could result in your firm paying more money to Oracle, not achieving compliance in your contracts, or other issues that waste your company's time and resources.
Intelligence gathering
Since our inception, we have connected with thousands of companies and government agencies all around the world as they have looked for ways to take control from Oracle and lower their costs and risks.
These companies have provided feedback on what they look for when setting out to choose an Oracle advisor to help with their specific situations.
We noticed an overwhelming number of similarities in the intelligence provided by the companies that were canvassed. We have drilled down in the data from this research and created a list of seven criteria that companies commonly refer to when choosing the right Oracle advisor. And here is the result …
---
7-point Oracle advisor litmus test
We recommend that you keep these 7 Oracle advisor credibility criteria in mind while choosing an Oracle advisor. We've supplied the rationale behind each point. The relative importance of each will be based on your firm's individual goals when resolving your Oracle challenges.
1. Independence
The advisor should be independent of Oracle and others. They should not be an Oracle partner, reseller, or Oracle competitor. And they should be neither pro-Oracle nor anti-Oracle.
Why is independence important?
A truly independent advisor will be able to provide you with objective advice for your specific situation. Your firm's interests will be in mind rather than the advisor's. Companies who are Oracle resellers or integrators have an inherent conflict of interest. When they find compliance issues, it is a lucrative potential revenue source for them. An independent firm will exhaust all alternative ways of responsibly resolving the issue, instead of simply paying Oracle (or a reseller) more money.
2. Expertise
The advisor should have on-staff expertise in a multitude of disciplines, including Oracle audits, Oracle contracts, Oracle business practices, Oracle technologies, and Oracle sales. Preferably, the advisor has a team of people who worked in these roles at Oracle. The advisor can scale operations and consists of more than one or two individuals. The advisor will provide the names and profiles of their team members.
Why is expertise important?
Oracle contracts are notoriously complex. Often, multiple people with different areas of expertise are involved in helping firms with their contracts and challenges. Having a team of ex-Oracle specialists on hand provides your firm with the expertise needed to help you reach your goals with Oracle; they know Oracle and how Oracle operates, which translates to quality help for you. If the advisor has few or no employees that worked for Oracle, you may not get the best information.
Scalability means that your firm will have the help it needs during the entire process, giving you the ability to resolve your Oracle issues in a timely manner. If the advisory firm has fewer than 10 employees, you will not get the quality and in-depth dedication to your situation that would be available from an advisor with a larger team.
3. Client references and success stories
The advisor has a publicly available list of clients willing to be references and speak to new potential clients of the advisor.
Why are client references important?
If you've ever been stuck between purchasing two different products, the chances are you've read reviews before making your decision. This should be the same with choosing an Oracle advisor. Having clients that are willing to speak to the advisor's work is crucial. Important questions to ask are: How did this advisor handle the project? Were the firms that worked with the advisor able to accomplish or get close to their goals? What (if any) issues came up during the contract with the advisor? Having a list of clients to refer to and ask these questions can be significant in helping you make your decision.
4. Focus
The advisor is either 100% focused on helping solve Oracle problems, or has a team of people in the company who are dedicated to this effort.
Why is focus important?
This point ties in closely with expertise. Oracle is unique and does business differently from other software and cloud companies. When an advisory firm focuses only on Oracle, they will be able to better predict Oracle's behavior and stay current on everything Oracle does.
Oracle products and services are incredibly diverse, and Oracle has acquired more than 100 companies over the years. An Oracle-only focus provides the advisor with the ability to specialize and go deeper with various Oracle challenges. If an advisor has more than one focus, then you may not get the specialized help you require. Just remember: it is nearly impossible to be an expert in everything. Beware of advisory firms that claim to be experts in everything!
5. Technology
The advisor has its own proprietary technology used to review your Oracle contracts, discover your Oracle implementations, and analyze your Oracle product usage to create compliance reports and financial modeling. At the very least, this technology should cover Oracle database, middleware, and EBS. A plus would be other applications like Siebel, Hyperion, Agile, etc.
Why is technology important?
When a firm has specially developed technology to track, measure, and report on any product that Oracle sells, they can provide you with facts and flexibility, and not restrict you to having to buy more Oracle. When companies have "2 guys and a spreadsheet" that analyze your data in Excel rather than with advanced technology, you will not get the right help to answer questions, solve problems, and provide the accurate information that you need to stay in control.
6. Price
The advisor is reasonably priced compared to the value they provide.
Why is price important?
As with any outsourced professional help, you would expect to pay for expertise that could potentially save you millions of dollars, but the fees should not be exorbitant. Your advisor should be concentrating on saving you as much money on Oracle as possible, and reducing your risk.
7. Security
The advisory firm has implemented the necessary security required to keep your confidential information safe.
Why is security important?
In today's digital age, cyber threats are always looming. Fixing a data breach should not be on your to-do list as you get help with your Oracle challenges. The Oracle advisor you choose should have the necessary security measures implemented before you sign a contract with them.
---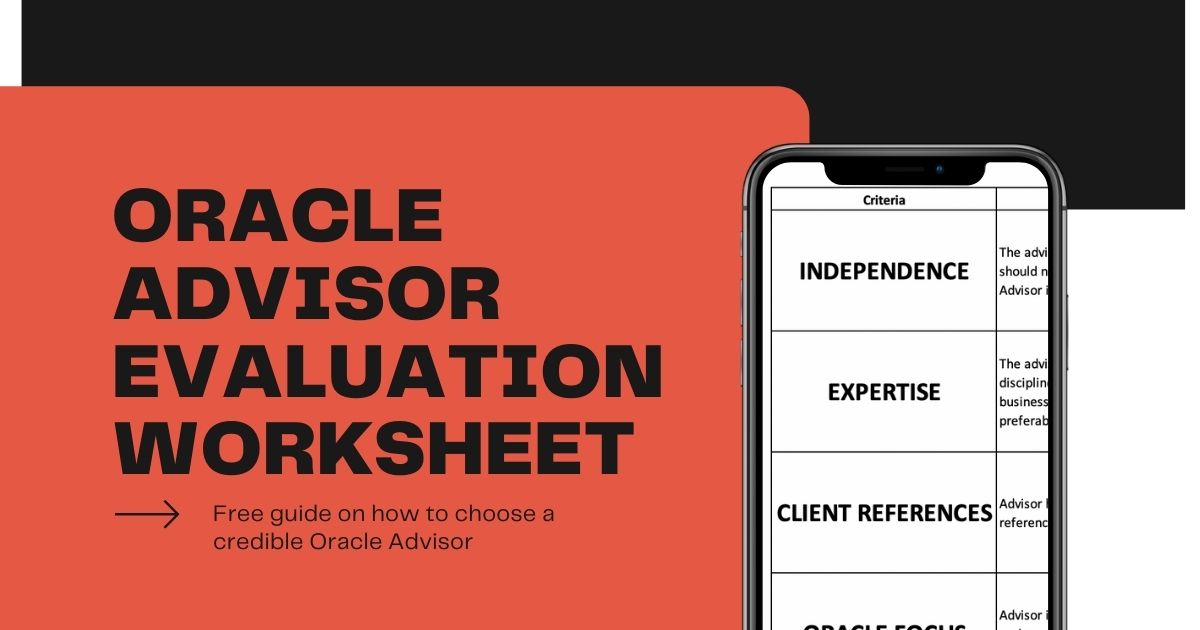 Free Oracle advisor evaluation worksheet
Drawing on the 7 criteria above, we've created a worksheet for you to rank your prospective Oracle advisors. Our worksheet is designed to allow you to customize your criteria, so you can accurately evaluate and rank the providers you're interviewing. We hope you find this material helpful as you try to navigate through the multitude of voices looking for your business.