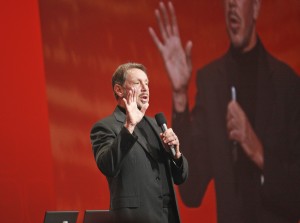 We've all read the news from last week that Larry Ellison is stepping down from his role as CEO of Oracle. From day 1 of Oracle's founding Larry has been at the helm and steered Oracle on a path of amazing success. Starting as a small client server database company to today's behemoth gobbling up of smaller rivals and delivering hardware and software solutions in the cloud, Larry has been at the center of it all. Larry has also been at the center of creating one of the industry's best (or most notorious, depending on your point of view) sales organizations. He's also presided over a company that has a reputation of being extremely hard to do business with, hard charging with aggressive audits, and hard to understand with complex business practices and difficult contracts. So, the question now is: with Larry stepping back will we see a more customer friendly, conciliatory, let's even say…"kinder and gentler" Oracle?
The simple answer is "no." The more thoughtful and complete answer is "no way." Sorry if you were looking at this management change as a course change, but it isn't. In fact, I would argue that things are only going to get worse. Oracle is going to push the throttle down and go full speed ahead in its current course. Here is why:
The management changes announced last week are really not that much of a change. Safra and Mark run the day to day operations and Larry takes the lead on technology. That's how it's been for years and years. The biggest change here is on the business cards.
The new Co-CEOs are very much the co-architects of Oracle's current policies and sales practices. If there was anything holding them back from going even further, it's now gone. If Oracle really wanted to change then new people would have been brought on board to make that change.
The current strategy is working for Oracle. Although there have been a few soft quarters, Oracle's strategy of creating vendor lock-in has successfully created a huge support business with margins running at 90%. Remember, although Wall Street looks at new license revenues, Oracle is really a support renewal company. Everything Oracle does is funded by maintenance revenue and the 90% margins.
Given Oracle's recent revenue shortfalls in several of it's more recent quarters, Oracle has already shown it will continue, if not accelerate, it's audit posture against its own customer base. As I mentioned in a recent blog post about how to respond to an Oracle audit letter, Palisade Compliance has recently seen a big spike in clients reaching out to us for assistance. Perhaps the throttle has already been pushed.
Are you going to Oracle OpenWorld? Palisade Compliance will be there. Set up a 20 minute compliance/contract talk or visit us at one of our partner booths. Or, contact us to schedule a private meeting.