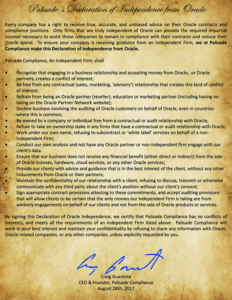 There comes a time in the life of every company when it must decide what it wants to be for its clients. At Palisade, we decided a long time ago that we would be the global leader in providing independent advisory services to our clients. (To be fair, Oracle helped us along when they kicked us out of their OPN program.) Being independent, coupled with our expertise, is what helps our clients achieve success with their Oracle challenges.
Because independence is critical, I am happy to officially declare Palisade's Independence from Oracle. In fact, I put my John Hancock on this declaration. I encourage everyone to download our Palisade Declaration of Independence from Oracle to see just how much we value our independent position and our ability to help our clients. It is this independent position that enables us to advocate for our clients the way we do.
After crafting our declaration of independence, we quickly realized that companies are being approached by many firms looking to help you with your Oracle licensing. In fact, there seems to be a flood of companies who are now in the space of helping you with your Oracle licensing issues. Many of these companies give the appearance of independence but are not truly independent. To help you make a decision on what Oracle advisor to hire for your business we've created this generic Advisor Declaration of Independence from Oracle form that you can hand to any company and have them sign it. If they refuse to sign it, then you should ask yourself why, and, more importantly, start asking that other firm about their relationship with Oracle. Where is the conflict and how will that impact you?
These Declarations of Independence from Oracle can help any Oracle customer weed through the puffery and obfuscation in the market and focus on those firms that can potentially help you achieve your goals. Now, independence is just one side of the coin. The other side is expertise and ability. You must still make sure the firm you are hiring is more than "two guys and a spreadsheet". You need a firm that has a large Oracle-only client base with a team of former Oracle auditors, contracting personnel, and executive level Vice Presidents that do all their own analysis across all Oracle product sets and can deliver on their promises to you.