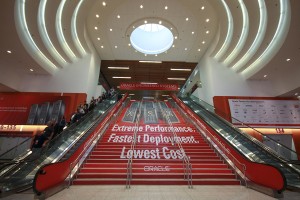 Over the course of my career I've probably been to a dozen Oracle OpenWorld conferences. The first 10 or so were while I worked at Oracle. Last year and this year I'm going as an attendee and to be apart of our partner booths at the expo. Oracle OpenWorld is a huge event with over 70,000 people in attendance.
Despite its size, not everyone thinks it's a worthwhile experience. I recently came across this article, Top 7 Reasons Why Oracle Conferences are a Waste of Time. As Last year was the first OOW for me as a non-Oracle employee and I will admit that I probably made every mistake in the book and was not as productive as I could have been at that conference. Given my experience as an OOW veteran now on both sides of the equation, I figured I would give you some advice on how to get the most from OpenWorld.
Here goes:
1. Know why you are going: As with anything, what's the reason you are there? Whatever your goal, e.g, meeting Oracle execs, learning about specific products, partying all night and drinking way too much, you can do it. Some people even plan on doing all of these! The conference is so big you really need to know why you are there . This will help you plan your agenda.
2. Create a plan: There are so many presentations, sessions, people it is easy to get lost in everything. Don't wait until you get there to "figure it out". Figure it out now before you get on your plane. That will make your life so much easier once you get there.
3. Use Oracle's conference tools: Whether it's the smartphone apps or online resources, Oracle does do a very good job getting you information. Use those tools!
4. Print out a map and bring it with you.
5. Talk to people and network!! I spend my time talking to people all day. That's how I make a living. At the same time I'm a total introvert. Lots of people at OOW are introverts too. The good news is that we all have something in common…Oracle. You'll pick up so many tips/tricks just by talking to the person next to you. I don't just mean in the vendor room, but talk to the people sitting in the sessions with you. If you have an Oracle issue, odds are they have it too.
6. If you go to the big concert on Treasure Island wear long pants and bring a jacket!
7. Enjoy San Francisco.
8. Use public transportation.
9. Finally, this is the most important tip, come say hello to the Palisade Compliance team! We'll be all over Oracle OpenWorld. Set up a 20 minute compliance/contract talk or visit us at one of our partner booths. Or, contact us to schedule a private meeting.
See you at OpenWorld!