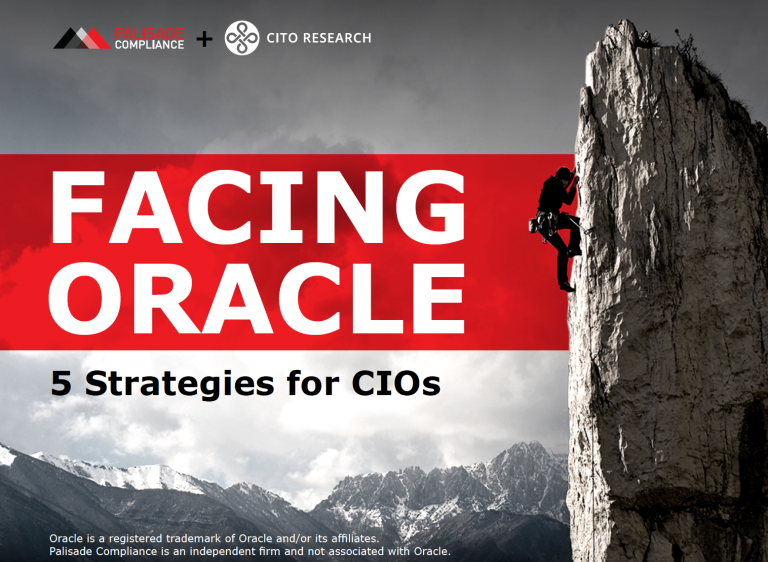 eBook: 5 Strategies for CIOs Facing Oracle
Say "Oracle" and "budget" in the same sentence, and most CIOs start to sweat. While software plays a critical role in business operations, Oracle's software and services are extremely expensive and are usually the number one or two item in IT's budget. Many CIOs have no idea whether they're in compliance with their Oracle contracts, and that's a problem.
Palisade Compliance has partnered with CITO Research to create the following eBook that discusses tactics that can help you negotiate favorably, reduce risks, and contain costs with Oracle.
In this eBook, you will learn 5 reasons for working with a trusted independent Oracle advisor, including:
1. Know Your Contracts
Having a neutral third-party analyze your contracts provides the understanding you need to enter an Oracle meeting with confidence.
2. Understand Your Software Usage
In order to have a fighting chance in an Oracle license audit, you must understand what software you're using and what software you're not using.
3. Know the Game
Before you pick up the phone or step into the conference room, get help from a trusted advisor with deep understanding of Oracle's tactics.
4. Maximize Your Licenses
Learn how to optimize your licenses and contracts and navigate the complexity of ULAs.
5. Don't Face an Audit Alone
An audit intervention can reduce your ultimate audit liability by up to 90% compared with going it alone.
6. BONUS: Oracle customer testimonials
---
About CITO Research

CITO Research is a source of news, analysis, research and knowledge for CIOs, CTOs and other IT and business professionals. CITO Research engages in a dialogue with its audience to capture technology trends that are harvested, analyzed and communicated in a sophisticated way to help practitioners solve difficult business problems.