Being audited by a software vendor is not something organizations look forward to, but it is something they must be prepared for.  There are definite best practices to follow when you are being audited.  There is, however, one thing you can do when you get that Oracle audit letter that will have the greatest impact on the result of that audit.   Following this one bit of advice will save you more money than anything else you do during that entire audit.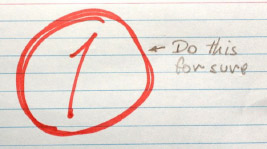 What is that one thing?  It's simple.  Before you let Oracle audit you, you should audit yourself.  It's that simple.  You can potentially save millions of dollars by doing your own audit first, before Oracle gets in there.  In fact, auditing your own environment and licensing first will enable you to eliminate any audit finding and allow you to look for ways to lower your existing annual maintenance payments to Oracle.   That's right.  You can use the audit as a way to lower your costs. 
Allowing Oracle, or any software vendor, to audit you before you audit yourself puts you at the mercy of the vendor.  You are playing defense off of their reports and their information.  You are constantly trying to prove that they are wrong. That's not a winning formula. Keep in mind that even if you've received that audit letter from Oracle, you can still get in there and audit yourself first.  It's not too late.  You just need to execute properly.
We've done a not so scientific study of what happens when customers self audit before they get a letter from Oracle, after they get a letter from Oracle, and when they don't self audit.   Our customer experience is clear in this area.
If you do not self audit, and you let Oracle audit you first you will most likely pay Oracle lots and lots of money.
If you self audit after you receive the Oracle letter, before Oracle audits you, you are likely to pay nothing or a small amount to Oracle.
If you self audit before Oracle sends you that audit letter, then you have an opportunity to eliminate any exposure and even reduce the amount you are spending on maintenance.
Now the tricky part here is doing the self audit.  There are two ways to do it.  First, you have someone on your staff who knows how to conduct an Oracle audit. This person should have licensing and contract expertise, Oracle product expertise, IT architectural and design expertise, as well as experience in project management, executive and vendor negotiations, and should have conducted several Oracle audits in the past.
Don't have someone like that on your team?  Then you need to look outside your organization and find a company that does this work. Make sure that company is not a software reseller.  There are lots of companies out there who say they do this work but they are really just resellers looking to sell you more software.
This is where companies like Palisade Compliance and Rational IT Partners add value.   We are two independent consulting firms that specialize in Oracle  compliance, contracting, and software maintenance reductions.  We have over 30 years Oracle experience and proven results helping our clients before, during, and after Oracle audits.