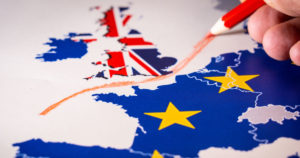 It's been three years since the UK publicly voted to withdraw from the European Union and we are still no closer or clearer on what it means to the average person in the UK. Equally, our friends across the channel are also struggling to find answers with businesses suffering the most.
I find in conversations with business leaders that little has changed. The only real focus has been on managing or reducing costs and no other real preparations have been made, since nobody knows what the end picture will look like. This is concerning, as I can tell you who is prepared: Oracle.
Oracle is prepared for Brexit, but are you?
Oracle has been reviewing the impact of Brexit to come up with creative ways to gain leverage and have you sign a new deal. I am very surprised that business don't yet see this and have not evaluated their compliance situation, nor do they have a regular programme that provides an annual health check. There are preparations that can be made NOW, starting with understanding your software licence positions and contracts.
Prepare for Brexit now by understanding your software licence positions and contracts.
Across our 300+ clients around the globe, only two have ever been 100% compliant with their Oracle licence estate. On average we find clients are £780K out of compliance. Now with the uncertainty of Brexit, and the British pound being near its lowest in three decades, prices are going up, and Oracle remains one of the largest ticket items on an IT budget. Yet, businesses are not focused on improving this part of their operations, despite the large impact it may have.
Stay ahead of Oracle and Brexit
Organisations in the UK should consider the following Brexit preparations to stay ahead of Oracle:
1. Perform a proactive audit of your Oracle estate and compare it against your Oracle contracts and support renewals.
2. Review all agreements and policies and amend relevant terms to ensure you are still able to use the software post-Brexit. See if changes need to be made to contracts to allow for cross-border use of licences.
3. Communicate to internal users and stakeholders the impact of post-Brexit terms and license usage rights.
4. Review what EU laws will survive into UK law that support businesses' use of the software.
Let's face it, Oracle licence compliance is already complex enough without adding Brexit into the mix. Contact Palisade to see how we can help.