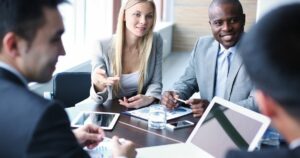 It's April and you are probably going through the annual ritual of fielding calls, emails, texts, and other outreach from a dozen Oracle salespeople trying to sell you everything from hardware to cloud services (and everything in between). Unfortunately, Oracle doesn't make it easy to negotiate with them. From artificial deadlines to lock-in contracts, Oracle wants you to sign their standard paperwork at their stated price. What if you don't want to do that? What if you want to negotiate a better deal? Good news – here are three things you can tell your Oracle sales rep right now to get them moving in your direction.
1. How about I give you nothing!
This is one of the most effective ways to get Oracle moving on price and terms. To get the most impact, you have to mean it. You should put yourself in a position where you don't actually have to buy what Oracle is selling. Whether you repurpose existing Oracle software licenses or you use an Oracle competitor product, you must be able to walk away from your Oracle negotiations. If Oracle is being unreasonable in their pricing demands, having the ability to give them nothing is a huge motivator for Oracle.
If your purchasing process has you pick a vendor and then negotiate contracts, you will lose every time. You should never be in a position where Oracle knows you have to buy their software and/or services. Once Oracle knows you need them, then it's just a waiting game for them until you are forced to sign their contract. Which brings us to the next point.
2. I'll sign this deal in June with my new sales team
Oracle is great at making their problems (they need money before May 31) into your problems (you need to sign this by May 31 or the deal goes away!). Every Oracle customer needs to make sure May 31 is Oracle's problem and your opportunity.
You should make it clear with your Oracle sales team that you will sign the deal in June or July with the new account team that you will demand of their management. I've used those words so many times with Oracle sales: "How are you going to feel when our new account team gets this deal in the summer and they collect your commission?" That is one of my all-time favorites for having Oracle move the negotiation needle.
Ultimately, the Oracle salesperson can't really approve anything. However, they are good at selling and they need to sell your deal to their bosses. Let's get them selling for you, not against you!
3. Why don't you just tell Oracle what you want?
This one is very Seinfeld-like. "Why don't you just tell me the movie you want to see?!" The same concept holds true for Oracle negotiations. Oracle pricing is completely arbitrary and list fees have no relation to the value achieved by using their solutions. You are the only one that knows that Oracle's software and cloud services are worth to you! So why wait on Oracle to give you a price? Oracle will always aim high and then you are forced to negotiate down. Just tell Oracle what the value is to you (what you are willing to pay) and what terms must be included in your contract.
I know people are taught to never go first in a negotiation. That is not true with Oracle. Go first and lead the negotiation. Why would you ever pay more money than the value you receive from a specific technology? In almost all cases, Oracle's initial offer will be significantly higher than your initial offer. In fact, in 25 years I've never seen a customer offer to pay Oracle more money than Oracle was looking to generate.
If you can use any or all of these strategies, you will be sure to move the negotiations forward in your favor. Palisade Compliance is the leading independent Oracle contracting and negotiation firm. We would love to assist your organization in your negotiations. We've helped companies negotiate over $1 billion USD in Oracle agreements over the last year alone. Reach out to us and get those negotiations moving!