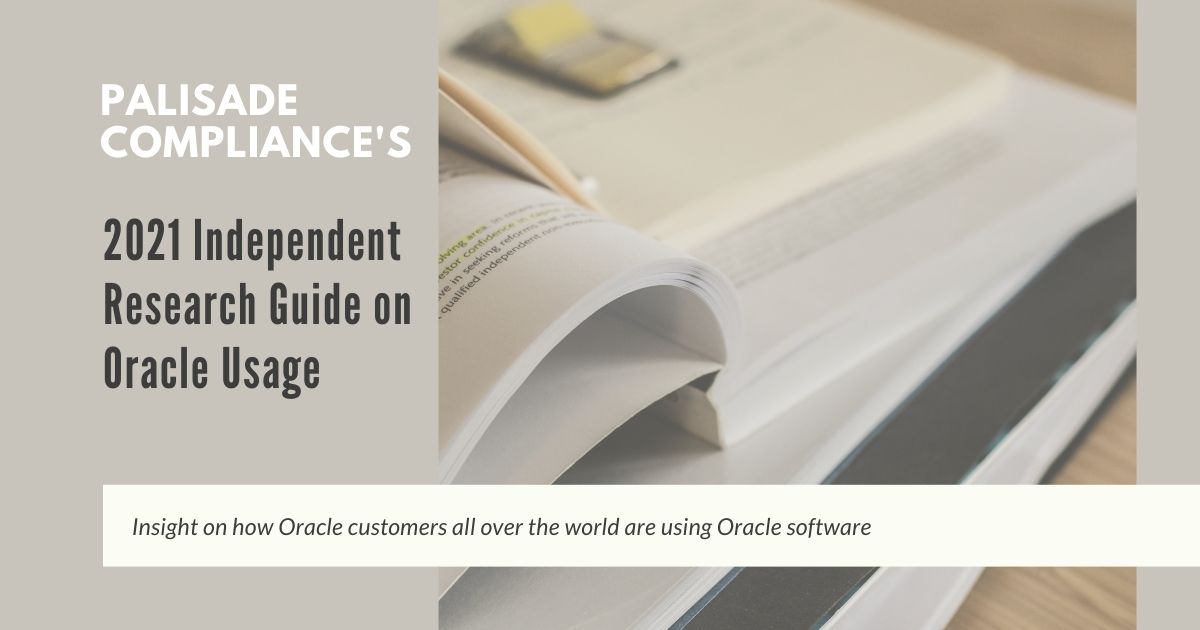 Palisade Compliance's 2021 Independent Research Guide on Oracle Usage
Businesses and technologies are changing at breakneck speed. Companies of all sizes are making their digital transformations while being pulled in different directions by the vendors they rely on. This is especially problematic for companies and governments who use Oracle.
Oracle is often the most expensive line item in your IT budget
As a vendor, it is also one of the most difficult to do business with. Unfortunately, too many Oracle's customers don't have the information they need to make the best decisions for their organizations. These companies rely on Oracle, Oracle partners, or Oracle competitors to understand the current state of Oracle usage. All of these firms have an inherent conflict and cannot give you truly independent data.
The good news is that Palisade Compliance is independent and we can give you unbiased, factual information.
To help you in your digital transformation, Palisade Compliance is pleased to announce our 2021 Independent Research Guide on Oracle Usage. This research guide is your source of information and insight on how Oracle customers all over the world are using Oracle software. If you're thinking of using Oracle, upgrading to the next version, moving to the cloud, virtualizing your deployments, paying your Oracle support bill, or moving to independent support, then this guide is for you.
This guide will give insight into the following questions and more:
What versions of Oracle are companies using? Are they upgrading?
What features and functions are companies using and not using?
Are companies moving Oracle to the cloud? What cloud are they using?
How are companies virtualizing Oracle? Is VMware still the leader?
The list goes on …
Understanding what's happening in the market will help you determine the best course of action for your organization. The Palisade 2021 Independent Research Guide on Oracle Usage will be released in December 2020. Simply fill out the form and we will let you know when it's available.
If you have questions, please contact us.
Reserve Your Copy of the Guide