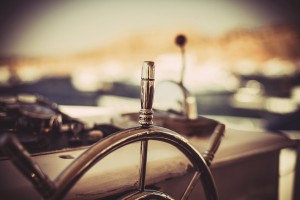 If you, like me, follow a few influencers on social media, you will understandably be concerned and stressed if you are an Oracle customer.  Reading about all the complexities that come with using Oracle software, coupled with all the different products and service offerings available that any Oracle Sales person will be able to convince you, you need, you are in deep murky waters. It is no different in Asia Pacific as it is in the United States or Europe.  A recent conversation with an Australian client being concerned about a verbal threat of an audit if they don't agree to purchase within a specific quarter, confirmed this isn't a country specific problem but truly a universal epidemic.
Now don't get me wrong there are good and bad everywhere but do you want to take the risk of ending up with a bad experience?
I don't know about you, but I wouldn't want to.  So how does a client ensure that their yacht isn't being steered by fear, threats or most importantly being taken into the unknown deep dark waters of the "Oracle world"?
Stay in Control.  Easier said than done, you say!  I would say it is the only solution!
How can you be and remain in control?
Know your rights – You don't have to be on the defence
Knowledge is Power – Control what you have and what it means
Control the process – Whether being pro-active (always the best) or re-active you can remain in charge
Verify – Vendors aren't always right. What you are told isn't always right
Help is available – Know that there is professional reliable help available
It is always better to be prepared for an audit but even if you haven't had the opportunity to equip yourself, here are a few tips to stay in control:
Don't ignore an Oracle Audit letter
Review your contractual audit obligations
Assess your position
Clearly define and control the process and audit requirements
Don't be intimidated or threatened
Oracle's deadlines do not have to be yours
Get help and understand your options
As a colleague of mine recently wrote in a blog and I quote: "Oracle licensing and LMS audits have a reputation for being confusing, confrontational, and costly", so get help.  Palisade has a presence near you, and if you are in Australia, New Zealand or anywhere in Asia, we are here to help you. Those who have done so already sleep much better at night.
Whatever your position or current need, we are happy to discuss how you can remain in control.